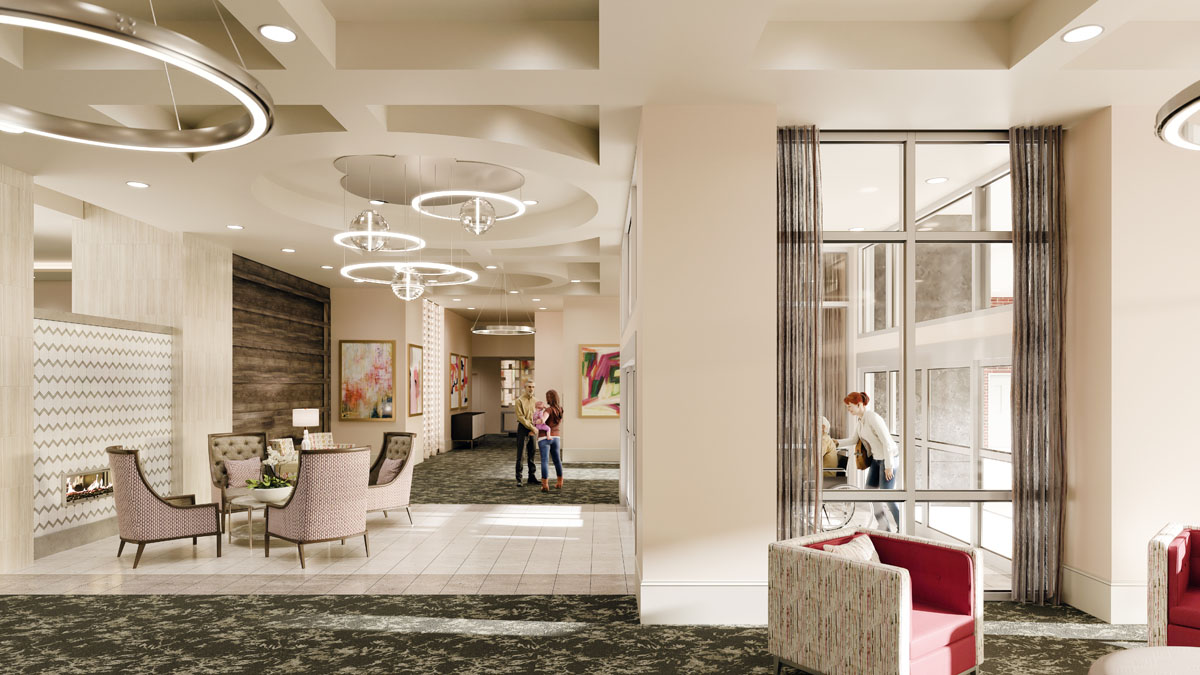 Silverstone Senior Living is proud to partner with Watermark Retirement Communities on The Élite Collection, which includes The Preston of the Park Cities in Dallas, Texas and upcoming communities The Seneca in Rockville, Maryland, The Providence in Fairfax, Virginia, and The Landing in Alexandria, Virginia. Watermark Chairman David Freshwater was recently interviewed in Senior Housing News. 
Wellness has always been at the foundation of Watermark Retirement Communities' business model. Now, the Tucson-based operator aims to take wellness to the next level with a "precision" approach.
That is, Watermark is harnessing technology, partnerships, new in-house talent, building design and novel operational approaches to support tailored wellness for each resident.
In this regard, Watermark Chairman David Freshwater compares Watermark to Tesla. He calls the automaker a technology company that just happens to make cars, and considers Watermark to be a wellness company that provides housing and services for seniors.
"We're going to try to be the Tesla of senior housing," he said Wednesday during a fireside chat at Senior Housing News' BUILD conference, being held virtually this week.
Incorporating the entire built environment
In recent years, senior living has increasingly shifted from a focus on taking care of people's needs to promoting their wellness. Often, these new operational models are organized around various facets of wellness, such as physical, intellectual and spiritual.
While Watermark also believes in a multi-faceted approach to wellness, a pitfall is viewing wellness as a discrete component of how a senior living community is built and operates, Freshwater said. For instance, some senior living communities have "wellness centers," which is where wellness-oriented programming occurs.
But the pursuit of wellness must be ongoing and supported across a resident's entire experience, Freshwater argued.
"It comes back to the idea of the whole community being a wellness center," he said.
Freshwater came to this conclusion in part through work that Watermark has done over the years with wellness pioneers based in Tucson, including Canyon Ranch and the University of Arizona Center for Integrative Medicine.
This work began with the very first community that Watermark opened, in 1987. The University of Arizona Center for Aging approached the operator about a wellness concept it wanted to embed in a retirement community. This concept, Project AgeWell, set Watermark on a path of incorporating wellness throughout its building designs and operations.
As Watermark grew and evolved, its commitment to wellness did not waver, but wellness was not necessarily a core component of every project as it had been at the first community. Another turning point came in 2005, when Watermark held a forum with some leading minds in wellness and added a new dimension of wellness to those typically considered. This additional dimension was focused on the built environment.
Today, Watermark's portfolio encompasses 60 communities with 12 under development, and is creating communities to support wellness through all aspects of design. This not only includes major efforts such as having wellness-oriented restaurants but must extend to some less obvious areas such as landscaping. One example Freshwater gave was the decision to eliminate the use of chemical weedkillers. Because it's more difficult to keep weeds in check through other methods, there are occasionally weeds in the landscaping, so sales staff had to be educated that this is a feature to sell residents on, not a source of embarrassment.
Likewise, the landscaping is designed to blend with the existing environment; if a community is located in a desert, designs often let the desert extend all the way to the back doors of apartments.
So the operator spends time educating its residents about the possible natural dangers they may encounter in such an environment. Freshwater noted that it is not uncommon for residents in Watermark's desert communities to find rattlesnakes on their back decks. Rather than compromising wellness-oriented design for the sake of preventing such incursions, the provider's philosophy calls for education and common sense.
"That rattlesnake isn't going to bite you — just call maintenance and we'll move it," Freshwater said, referring to the message conveyed to residents.
Watermark is taking a measured approach to rethinking building design in the Covid-19 era. Freshwater is cognizant that certain aspects of a building's plant will have to change, such as HVAC systems. But the operator is looking at ways to retrofit designs that accommodate permanent changes stemming from the coronavirus, without acting rashly.
"We're not going to be knee jerk and saying, 'let's put up plexiglass,'" Freshwater said.
He envisions the permanent changes Covid-19 will bring to the built environment will be similar to the safety measures enacted by the airline industry after the September 11, 2001 terrorist attacks such as tighter safety checkpoints and procedures at airports and reinforced metal doors on airplanes preventing access to cockpits.
Watermark views the pandemic as an opportunity to get granular and study what can be implemented in communities that strikes a balance between the services residents pay for with enhanced safety in the event of another mass outbreak. 
And many of the approaches are simple. Watermark is looking at spacing dining rooms to encourage social interaction while compartmentalizing residents into smaller groups. The company is reviewing outdoor space in warm-weather communities to determine methods to seamlessly move from indoors to outdoors, such as indoor-outdoor exercise classes. 
'Precision' wellness
Community restrictions that Watermark enacted during the pandemic's early weeks laid bare the need for resident engagement – a core pillar of the operator's "E4" wellness strategy. (The other pillars are essence, enhance and embody.) The framework is being developed with leadership from Aras Erekul, who worked for Canyon Ranch before joining Watermark.
To Freshwater, a key principle of the approach is that keeping residents safe is not the same as keeping them well.
"We could tell in our own communities that we really needed to somehow find a way to get people engaged again," he said.
As the pandemic persists, Watermark is looking at ways to tailor and scale its wellness programs to a larger resident population, and technology will play a role. The operator is adapting its "Watermark University" program – in which residents, staff and families host classes rooted in their passions – so that classes will be available to residents either on demand or in real-time, virtual settings.
Watermark has precedent in doing this. The operator once launched the Fountains Club, a wellness program at its CCRCs which opened its slate of amenities to seniors living outside the campus. The program was well received, with up to 200 people from the outside community participating.
"It was a win-win for the community because it allowed us to have more vibrant programming and a broader offering for our residents," Freshwater said.
Moving forward, partnerships will play a pivotal role in achieving Watermark's wellness goals – and this is an area where he noted the industry as a whole needs to improve. Watermark entered a partnership with the longevity center at UCLA, where the operator is opening a community on campus, and is exploring other partnerships with research centers, hospital groups and wellness specialists.
In Freshwater's view, wellness must not be simply medical. It can also involve arts, culture, music – anything that can enhance the services it provides to residents, it will consider.
"There are literally thousands of affiliations that we could have been cultivating," he said. "If you have more minds approaching a topic, you're going to do better at it than if you just stay myopic."
Precision wellness is a demanding operational model that — at its most robust — requires dedicated staff members. Communities that are part of Watermark's high-end Elan brand, which includes a high-profile New York City project that is soon to welcome its first residents, do staff at this higher level.
But, advancements in technology — and the embrace of tech driven by Covid-19 — also open up new possibilities for bringing wellness to more affordable communities, Freshwater believes. For instance, being able to share wellness programming across various communities through virtual platforms creates cost efficiencies.
"Covid-19 gives me hope that wellness isn't a luxury," Freshwater said.