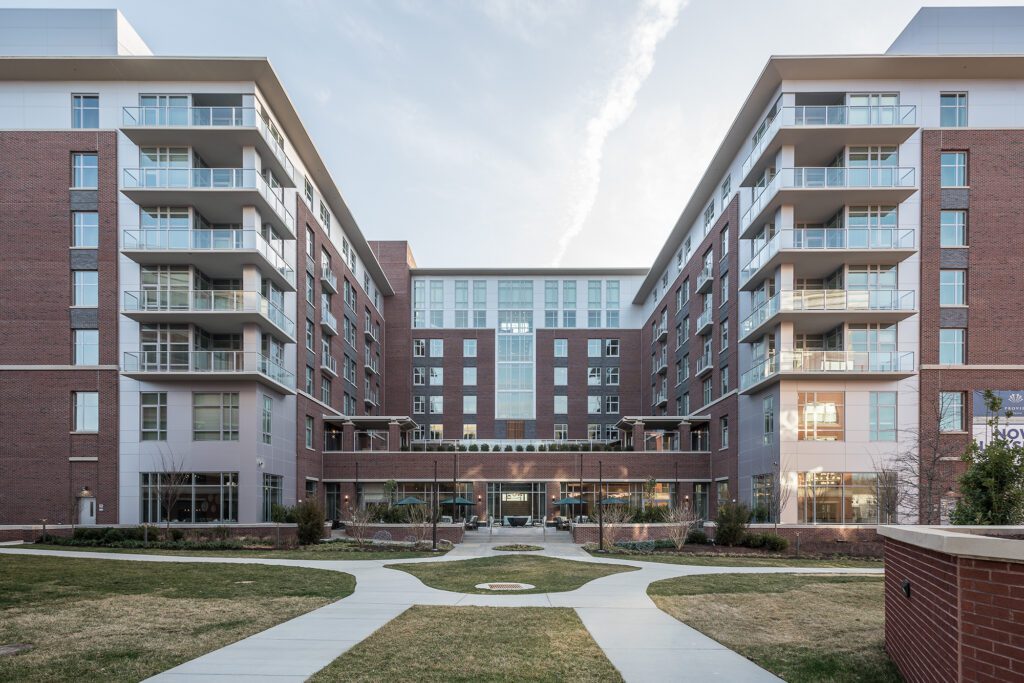 When the Covid pandemic hit in March 2020, Silverstone Senior Living was approximately halfway through the construction of The Providence at Fairfax, in the Washington, D.C. metro area.
At the time, the eight-year-old development company elected to pause construction and take a step back in order to ensure the safety of future residents and their caregivers, Bobby Zeiller, Co-CEO and Vice Chairman of Silverstone, told local news channel FOX 5.
Doing so was important not just for this project but for Silverstone's ambitious pipeline of seven projects in the District of Columbia/Virginia/Maryland (DMV) market — a pipeline that could represent an investment of $450 million to $700 million and involves operating partner Watermark Retirement, Zeiller told Senior Housing News.
At The Providence, the firm improved the air filtration, added touchless technology, and bolstered the wifi capabilities to the property, according to Zeiller.
One year later, Silverstone opened the doors at The Providence, completing the $75 million, 154-unit assisted living and memory care community, its first to open in the DMV.
Silverstone plans to expand beyond the DMV, according to Zeiller, who specifically mentioned Boston as a potential target for future investment.  
For now, Silverstone plans to further expand the DMV portfolio into areas that could include Arlington, Chevy Chase, and D.C.
Zeiller's expertise in the plan goes beyond his decades of experience in senior housing. He grew up in Montgomery County, Maryland, and has lived there or in Fairfax County, Virginia, for his whole life.
"D.C. is actually a pretty small town," Zeiller told SHN. "It's built up of a bunch of small towns that have individual character… Bethesda is very different than Alexandria, which is very different than Fairfax."
Silverstone's investment in the area reflects the wide array of small-town character that Zeiller mentioned.
Currently, two properties, The Providence and the Seneca are open to residents. The Seneca, located in Rockville, Maryland, is a $76 million, 146-unit assisted living and memory care community. The Seneca welcomed residents in August.
This generation of seniors wants amenities. They want wellness and fitness, dining and lounge space, and they want technology, Zeiller told SHN.
"The [previous] generation of seniors wanted different things," he said. "They were a little more reserved and didn't necessarily need those things that the new generation wants. We saw that gap."
The aim is to provide a community that anyone, regardless of age, would want to live in right now.
Silverstone's plan includes four more properties, one of which will have two phases. The communities are highly amenitized, boutique hotel-like properties that are rich in social programming.
"That's what the new seniors want and certainly what those seniors in D.C. are going to want," he said.
The DMV portfolio:
The Landing: Located in Alexandria, Virginia, the community will open its doors early in 2022. It has 163 units that include assisted living and memory care along with independent living.
The Landing Phase II: The second phase of The Landing will include 143 independent living units next to the original property. Construction is slated to begin in 2022.
The Canopy: Located in Reston, Virgina, the property will include 136 units for assisted living and memory care. Construction is scheduled to begin in the third quarter of 2023.
The Trillium: Located in Tysons, Virginia, the Trillium will have 198 units for independent and assisted living as well as memory care. The Trillium will be part of expansion plans for

 

The Boro Tysons, according to a report from

 

The Washington Business Journal. The Boro Tysons is a community that includes residential living, shops and restaurants, and other amenities.
The Pinnacle: Currently in predevelopment, the community will be located in North Bethesda, Maryland and will provide about 200 units for independent living, assisted living, and memory care.
Working with Watermark
Tucson, Arizona-based Watermark Retirement Communities operates both The Providence and The Seneca and will operate the entire portfolio when future communities are completed.
"We would not be successful in senior housing without someone like Watermark," Zeiller told SHN.
Watermark's development expertise allows Silverstone to ensure that buildings are constructed to the optimum specifications, according to Zeiller.
Watermark can also help with talent recruitment and development, which is of particular importance during an industry labor shortage.
"They have the most unbelievable culture. They are able to attract people and retain them. They treat their associates as the top of the pyramid because they want them to be happy," Zeiller said.
Watermark's internal program to develop and retain talented, qualified caregivers provides ammunition to combat issues like a labor shortage.
Covid's place in the future
Covid, for the senior housing sector, was misunderstood, Zeiller said.
"There's no question that we're dealing with the most sensitive and fragile population, but the reality is that this new generation of senior housing that we and our competitors build is where seniors should be," he said. "That's the safest place for them."
The pandemic came at a time when Silverstone had the opportunity to address future virus-related concerns as the Seneca and the Providence were under construction.
Covid taught developers and operators that senior housing, operated safely with proper amenities, expertise, and technology, is where you'd want your loved one to be in a time like this, Zeiller said.
And he is confident that future demand will be robust. Strong demand will be important for Silverstone, given that the D.C. market has been a hotbed of senior living development in recent years.
Other projects planned or underway include Mather's highrise life plan community in Tysons; a new development near Georgetown from Balfour Senior Living, Welltower (NYSE: WELL) and Trammell Crow; a high-end Corso-branded community from Galerie Living; and the second development under Maplewood Senior Living's Inspir brand.
But in prior decades, the DMV was underserved by senior living, and Zeiller sees a long runway for growth in the area.
"The units that the $450 to $700 million will create won't even satisfy the demand in D.C.," said Zeiller.