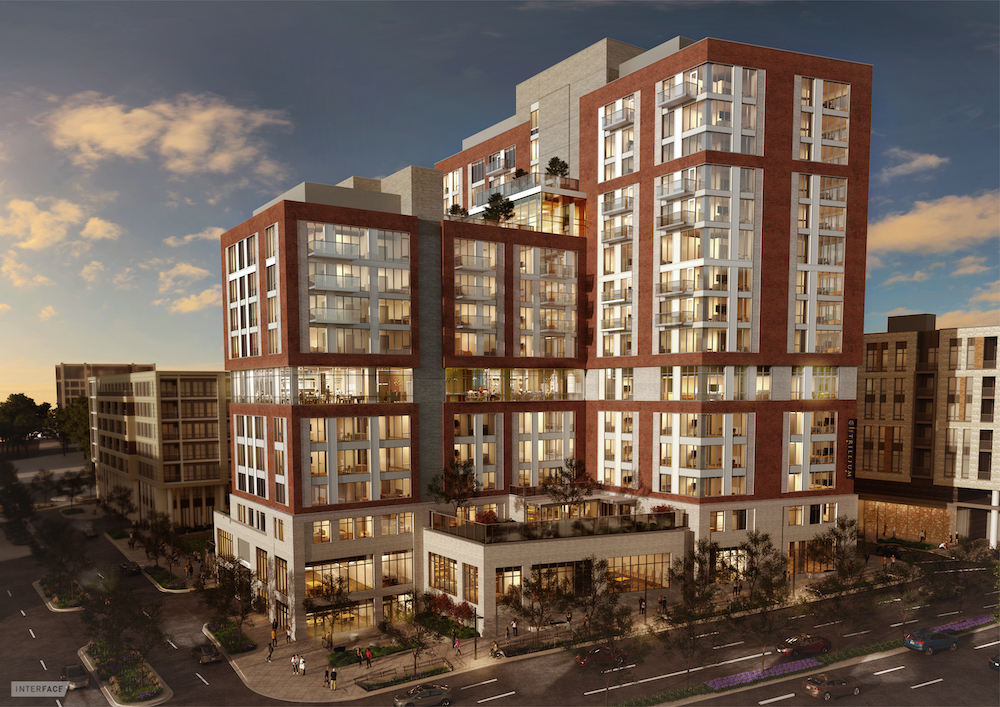 The Trillium, part of the latest expansion of The Boro in Tysons from Meridian Group, would deliver by the end of 2023.
Silverstone Senior Living is redoubling its efforts in Greater Washington as senior housing continues its rebound from Covid-19 lows.
The Dallas company, which has an office in McLean, is plotting $450 million in new senior housing projects in the region, which when complete would bring its local investment since 2019 to $700 million, and bring its holdings to seven communities with 1,267 units of senior housing of different kinds. Bobby Zeiller, Silverstone's recently-elevated co-CEO, said the company sees Washington as a major growth market.
"We believe there's a 15- to 20-year runway of senior housing demand, and D.C. is one of the top three senior housing markets in the country with great demand and growth potential," he said. "So we've been embarking on a portfolio of properties with very targeted urban, mixed-use settings and a focus on transportation."
In the development pipeline locally are:
The Canopy:

 

A four-story, 136-unit assisted living and memory-care community at 10819 Leesburg Pike in Reston that includes some restaurants on site and 22 acres of walking paths and gardens. It will break ground this year for an estimated completion in the third quarter of 2023.
The Trillium:

 

Part of The Boro in Tysons, this new 15-story, 198-unit community will have 118 independent-living units, 56 assisted-living and 24 memory-care units, a cafe, lounge, restaurant, wellness center and spa, and outdoor gardens. This is part of Meridian Group's planned

 

expansion of The Boro, which calls for 800 residential units, 40,000 square feet of retail and an acre of parkland and recreational space. The Trillium is expected to deliver at the end of 2023.
The Pinnacle: Next to Pike & Rose in North Bethesda, this 17-story, 201-unit building will be broken up into 113 independent-living units, 40 assisted-living and 48 memory-care units. It will have 18,000 square feet of street level retail and restaurant space. It is in pre-development now and will also take about two years to build.
The Landing, phase 2: Next to the

 

currently-under-construction

 

163-unit first phase at 2620 Main Line Blvd. in Potomac Yard, the second phase of The Landing is slated to be an eight-story building with another 143 independent living residences. It is expected to break ground in eight to 10 months.
Silverstone is using architects PRDG and Perkins Eastman for design of the buildings, Parker Rodriguez Inc. as landscape architect, Whiting-Turner Contracting Co. and Moriarty as general contractors and Faulkner House Interior Design and Thoma-Holec Design as interior designers. Watermark Retirement Communities will manage all of the properties, which employ 100 to 120 people apiece.
Silverstone declined to disclose specifics of how much it's investing in the four new properties. Its first wave of developments were in the eight- and nine-figure range: the 146-unit The Seneca in Rockville cost $76 million; and 154-unit, $75.8 million The Providence in Fairfax. Its fourth community, the first phase of The Landing, will open in early 2022 at a cost of $100.5 million.
The D.C. region had the second-largest number of new senior housing units has come online in the past year, behind New York, and Silverstone has filled out much of a map of the D.C. suburbs with this latest investment. But it's still got its eye on additional sites. Specifically, Siverstone is hunting for land in Arlington for another senior community.
Zeiller said the demographics in each neighborhood support its strategy of a continuum of care — offering several options that allow residents to move into increasing care as they age. Generally it's been looking at demographics of seniors in each neighborhood, but locations have to be close to an established younger demographic too, since many seniors choose to live close to their children. About 50% of Silverstone's residents come from within a five-mile radius of any given site.
"We put a premium on being near transit, families, associations and caregivers," Zeiller said. "But the other thing is walkability to amenities and that's where we look for what's close to movie theaters, restaurants and other environments. We put a premium on those locations."
Covid-19 proved a challenge to the senior living world, since many early outbreaks happened in congregate care settings. Data from the National Investment Center for Seniors & Housing Care, which watches the senior housing industry, shows senior housing occupancy rebounding slowly from historic lows to top 80% in the third quarter — but that's still below pre-pandemic levels.
Silverstone, in turn, has evolved during that time with more indoor air quality tools, space redesigns and locking down access to some facilities. To Zeiller, the senior care business will recover as it adapts, because a new generation is starting to look at senior living.
"Covid-19 gave us a chance to take a step back and make sure the communities are offering what people need," he said.